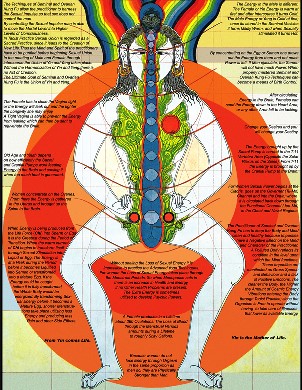 Book now
Workshop:
(3.) ::: Awaken Your Sexual Alchemy ::: Selfcultivation & Multiorgasmic Couple
Course leader:
Grand-Master Mantak Chia
Location:

00000 Computer / Laptop / Handy => zuhause / at home
Topics:
Healing Love
Date:
07. - 08.10.2020
Times:
09:00 – 12:00 | Pause/Break | 13:00 – 15:00 Paris Zeit/Time
Course fees:

2-days Online LIVE-Seminar fee = 150 €
Courses 1-5 can also be booked together (12 days 650 €)
Description:
(3.)  07.-08.10.2020 ::: Awaken Your Sexual Alchemy ::: Healing Love - Selfcultivation & Multiorgasmic Couple
Grand Master Mantak Chia has decided not to travel due to worldwide travel restrictions and to hold all his courses online.
All courses will take place Online-LIVE, i.e. Grandmaster Mantak Chia will teach in Thailand at the same time.
You can participate comfortably at home, no travel, no overnight stays, no restaurant visits.
You will receive detailed instructions, Grandmaster Mantak Chia uses the online platform Zoom, all you need is a computer / tablet / cell phone with internet access or WLAN. So far several thousand participants have successfully
made the entrance.
Very pleasing: the course fees are substantially reduced. You can book directly via the link and pay to Thailand by credit card or PapyPal, or transfer to our German account via Tao-Berlin.
For beginners we recommend prior participation in the course (1.) 03.-04..10.2020 ::: Awaken Your Inner Alchemy ::: or experiences already gained in other tantric traditions.
Awaken Your Healing Sexual Alchemy
Hardly any other topic has occupied mankind over the millennia as much as the tension between sexual desire and reproduction. More than 3000 years ago, the Chinese discovered that men can have multiple orgasms if they control or even completely avoid ejaculation. The retention of semen during sexual intercourse was a well-kept secret in ancient China. Initially, these practices were practiced exclusively by the Emperor and his inner circle. Later they were inherited from the father to a chosen son, but withheld from all female family members. In Semen and Ovary Gongfu, men and women learn how to direct and transform their sexual energy into the path of the Microcosmic Orbit. With each ejaculation and each menstruation, the body assumes that a new life is to be conceived. According to the Tao, all organs and glands sacrifice their best energy for this purpose, which is called orgastic energy.
According to the Kinsey Report, a man ejaculates on average five to six thousand times during his life, some men ejaculate much, much more often. From a Taoist point of view, a man loses energy mainly through ejaculation, while a woman loses energy through menstruation, not through orgasm. Women can experience about three hundred to five hundred menstrual cycles. Each sperm and egg cell contains highly effective creative energy.
Jing Chi is the most subtle of all energies with which a person is born. All other forms of Chi in the body depend on Jing Chi, or original Chi. Jing Chi is transformed into Chi through interaction with the organs. Preserving and nourishing Jing Chi is the basis of the Taoist way, it is mainly stored in the kidneys, semen and eggs.
Ching Chi is the sexual essence, it is formed in the sexual organs. In women it is the energy of the ovaries, in men it is the energy of the semen. Ching Chi is denser than Chi, moves more slowly in the body, it nourishes the organs when moving around in the body.
The cultivation of Ching Chi, which is moved in our "love organs", is one of the few ways to replenish our stock - our Chi account, so to speak. Closely linked to the glandular system, our sexual organs can produce large amounts of sexual energy, an extremely fiery energy, powerful, alive - but not permanent. In order to store it, it has to be directed to the organs and must not remain exclusively in the sexual organs or be "wasted"; i.e. discharged without circulating it.
Disturbances in sexual life, such as premature ejaculation, erectile dysfunction, impotence, prostate problems, menstrual problems, organ dysfunction and hormonal fluctuations can be alleviated, if not resolved, with the practices of Healing Love. Most men are sexually weaker than women, as they lose more energy than women during the same sexual activity. The sexual imbalance between men and women is obvious. The woman can absorb her man as long as she wants.
The Taoists therefore say that their Yin essence is almost inexhaustible. However, the physical power of love of the man is limited by the amount of energy available for his erection and ejaculation.
The effects of this biological primary imbalance on the man-woman relationship are enormous. It is a real chain reaction, from marriage to the relationship to work, to the culturally determined roles we take on. The mental-spiritual models by which we orient our self-development and inner growth are also affected by this.
In the depths of their hearts, men encounter the inexhaustible sexual power of women with as much fear as fascination. Perhaps this sexual insecurity is also the reason why men at all times and in every culture have sought to suppress women physically, politically, financially, intellectually and religiously.
The path to outer beauty through inner awareness, that is one of the expected results, one practices the Taoist teachings for some time. Apart from an increasingly calm, emotional behavior, the effectiveness of Taoist practice is most likely to be noticed in the increasing absence of complaints. Less sleep, better digestion, more fulfilling sex and fundamentally better mood significantly increase our quality of life.
---
Book now