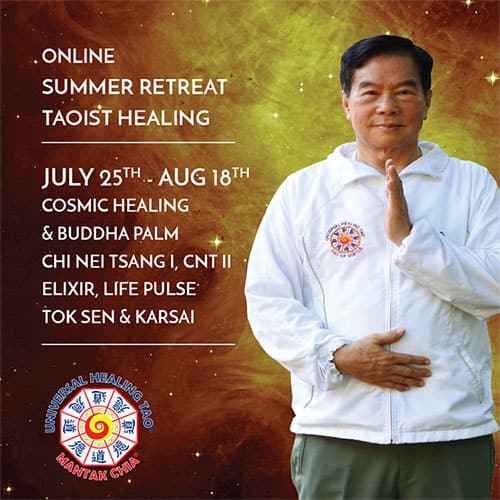 Book now
Workshop:
(G) Cosmic Healing & Buddha Palm - Online-LIVE-Teaching - 4-days (translated into 7 languages )
Course leader:
Grand-Master Mantak Chia
Location:
PC Online LIVE
PC
00000 Zuhause
Topics:
Cosmic Healing I
Date:
25. - 28.07.2020
Times:
09-12 Pause 13-15 Uhr
Course fees:

1 Seminar (4 days) 270 €
any 2 Seminars (8 days) 490 €
any 3 Seminars (12 days) 650 €
Description:
Online-LIVE-Teaching  with Grand-Master Mantak Chia  at home on your PC or Laptop (in English)
(G) 25. - 28. July 2020     4-day course   Cosmic Healing & Buddha Palm
When:              09:00-12:00 - Break - 13:00-15:00 Online time
How much:     150 €  10 hours course time, payment on German bank account or directly via PayPal or credit card
How:                Directly via the booking link (in English) or by e-mail to Tao-Berlin, Wolfgang Heuhsen



The Online-LIVE-Teaching hours with Grandmaster Mantak Chia will be recognized in a planned education as UHT Associate Instructor. Info see......02.-18.10.2020 in Berlin.
---
                                        Why-LIVE-Transmission ?
By Grand-Master Mantak Chia's abilities to guide energy, you can be connected to his simple but surprisingly successful Online-Chi-LIVE-Transmission…
Spirituality cannot be touched by our analytic mind, it needs deeper experiences.
This '…being touched inside…' moments are not easy possible just with video clips. This trail, studying alone with texts or video clips needs much more time – and effort.
That's why Online-LIVE-Teaching gives you a more intensive connection to this spiritual source. Our brain works like a receiver for all kinds of signals. We use our physical senses like eyes, ears, nose etc., but also non-physical abilities like intuition, empathy, premotions, foreboding etc.
These extrasensory perceptions work like a WLan, we receive with our subconscious mind. So to consciously activate this subconscious channel, we have to interrupt our habitual view outside and consciously look inside.
This Qi-Gong-View is a sort of self-analysis, one of Grand-Master Mantak Chia's basic lectures.
So just try this link to book Online-LIVE-Teaching wth Grand-Master Mantak Chia
These classes are replacing many of the seminars which Grand-Master Chia was due to teach in the European Spring Tour.  Awakening the Light of Healing & Wisdom corresponds to the Taoist Basic Practices usually taught at weekends during
---
Equipment:  
1. you need an e-mail address, internet access and a computer, laptop, tablet or even a smartphone.
2. you book via this website, get the account data and transfer the online fee of 75 € per workshop day (see course fees).
3. on the online LIVE course day you will receive an email with a zoom link that you can use to join the course.
Grand Master Chia uses ZOOM, which works like Skype, but is reliably stable.With the registration you will receive all data to dial in...
Book now